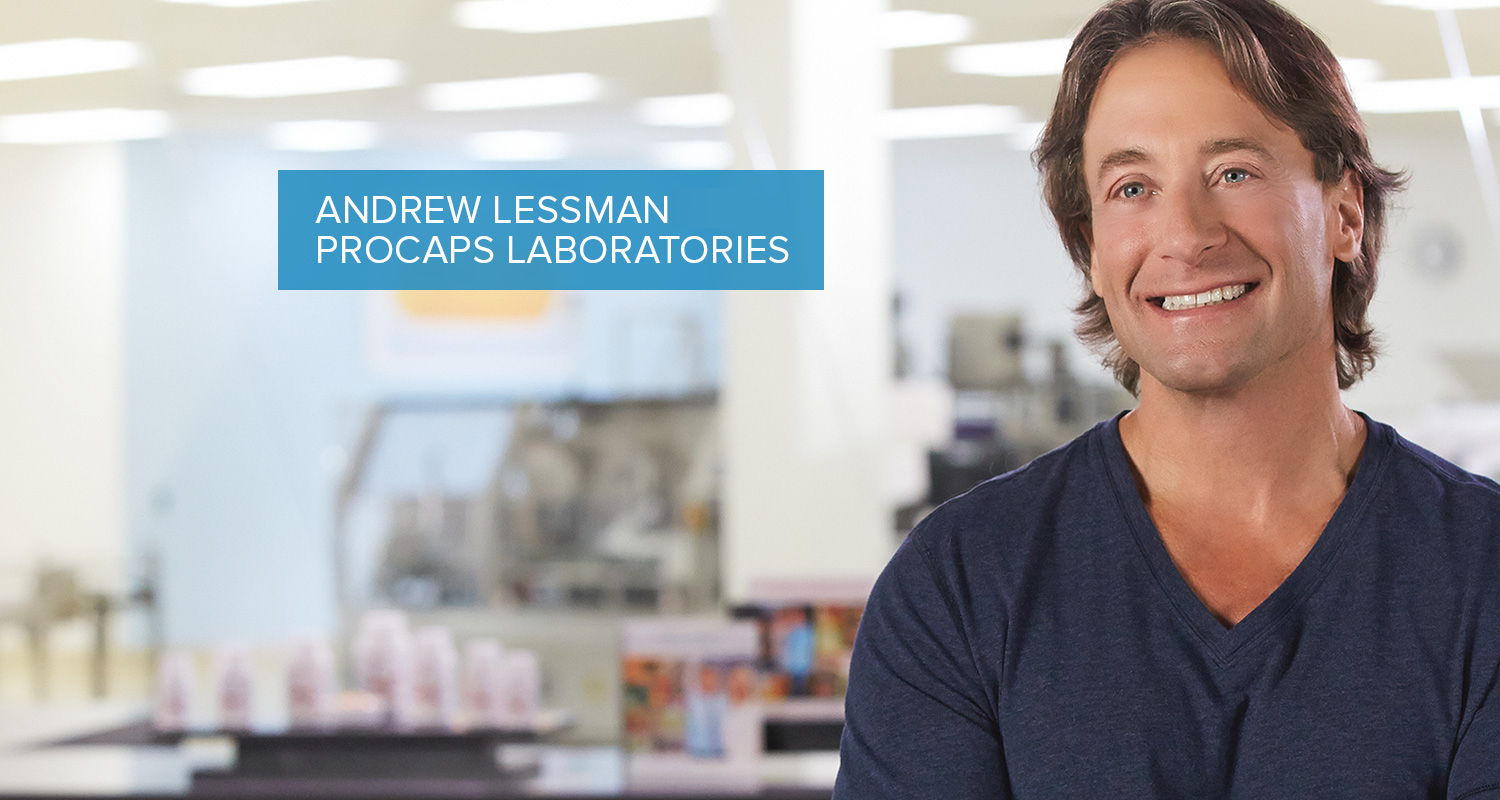 ANDREW LESSMAN
Andrew Lessman founded what was to become ProCaps Laboratories in 1979 - back in what some consider "the early days" of vitamin supplements. Today, it remains one of the few companies that actually manufactures the vitamins it distributes, and the only one in its class for uncompromising quality.
ProCaps Laboratories is still owned by the man who founded it, and his commitment to quality has remained unchanged.
An Early Start for Andrew Lessman
We often accidentally discover our career path as a result of interests we realize early in our childhood. Such is the case with Andrew's interest in vitamins, which began when he was a very young child seeking to make his pets healthier.
Years later, this interest in the science of nutrition encouraged Andrew to study biochemistry at the University of Pennsylvania, where he was honored as a Benjamin Franklin Scholar, and continue his studies in medicine at the University of Hawaii. Disappointed in medicine because it focused disproportionately on illness and ignored the preservation of health and wellness, he elected to discontinue his medical studies. For Andrew, common sense dictated that health was not merely the treatment of disease, but the prevention of disease before it can even occur.
Determined to find a way to help physicians and institutions change their approach to health, Andrew decided to pursue a law degree and focus his practice on medical and healthcare regulation. Andrew attended Loyola University Law School in Los Angeles, where he received a Juris Doctor Degree and subsequently opened a law practice, focusing on medical legal issues, including food and drug law.
True Passion Changes Andrew Lessman's Career
Andrew had another passion, beginning in his childhood and continuing throughout his academic career, which exerted an equally significant influence on his endeavors. This other passion was athletics, particularly track and field. Andrew's focus was the decathlon, which required proficiency at 10 different events and demanded speed, strength, agility and coordination. The intensive training and limited recovery time encouraged Andrew to look to nutrition as a means of improving performance, speeding recovery and preventing injury. In doing so, he found the same aspects of nutrition and biochemistry that ensure optimal athletic performance also directly impact optimal health.

In 1979, while attending Law School and training for the decathlon, Andrew developed a straightforward vitamin regimen that contained performance-enhancing ingredients for elite athletes. At about that time, he also began giving seminars for physicians looking to be more informed in recommending supplements to their patients. Unfortunately, conventional products did not provide the ingredients backed by scientific research, and the quality of those supplements discouraged Andrew from consuming them himself or recommending them to physicians or others. Andrew was left with only one alternative: to formulate his own vitamins and high-quality nutritional supplements that conformed precisely to the scientific literature.


Where and How to Create Vitamins
Designing and manufacturing a high-quality vitamin is not a simple process. It requires a great deal of expense, hard work and experience - which is precisely the reason most companies don't actually make their own products, but simply market those made for them by contract manufacturers. The caliber of vitamins Andrew sought to take in 1979 was simply not available from any existing company, so he was forced to find a way to make them himself.

Fortunately, while Andrew attended law school, he had worked part-time for a vitamin company that permitted him to create and manufacture his own formulas. In so doing, Andrew developed the unique, additive-free manufacturing process that sets ProCaps apart from the rest of the industry. The incredibly pure and active formulas soon became the favorites of the elite athletes, and interest in Andrew's products began to grow by word-of-mouth to health professionals as well as the general public. By the late 1980s, Andrew felt encouraged by the public's increased interest in nutritional supplementation and decided to retire from his law practice to devote himself exclusively to a lifelong dream: to produce the highest quality vitamins in the world and connect with consumers through education.


Starting ProCaps Laboratories
Andrew Lessman's departure from his law practice in 1989 and his decision to make an ethically-marketed line of vitamins could not have happened at a better time. Multilevel marketing was at its high point and consumers reasonably doubted the outrageous claims and questionable formulations made by the vast majority of supplement marketers. The public was poised for an ethical alternative and was extremely receptive to Andrew's informed educational approach to supplement marketing and the easy-to-understand, empirical differences in his formulations.

As the years have passed, the vitamin industry continues to be saturated with low quality products that lack credibility and remain decades behind the research. Andrew's strength is that he has taken the natural, rational approach to manufacturing and marketing: sane, realistic, and intractably honest - and he has presented his audience with the unvarnished truth. It's an admittedly distinctive approach these days, but Andrew's success stands as a testament to the power of an unwavering devotion to excellence and honesty.



PROCAPS LABS
Supplements Powered by the Sun
ProCaps Laboratories, founded by Andrew Lessman, remains one of the few companies that actually manufactures the vitamins it distributes. Our manufacturing facility is unique not only for the 100% pure, additive-free supplements we produce, but also for the purity of the power used to create them. Our roof and adjacent parking structure house one of the largest private solar energy installations in the world. This natural source of energy is used to produce all ProCaps products, making us the only supplement manufacturing facility in the world to do so. ProCaps is also one of few manufacturing facilities to acquire LEED Existing Building (EB) GOLD status. We have been awarded this certification for our commitment to green energy production, environmentally responsible building upgrades and outstanding work environment. Examples of our eco-friendly commitments include using 100% recycled plastic for our supplement bottles, installing ultra-efficient LED lighting throughout our entire facility, using only environmentally-friendly cleaning supplies, recycling a majority of our refuse and establishing a smoke free campus. Our uncompromising quality, commitment to the environment and the abundance of rave reviews from our customers should all make you feel confident that your purchase will provide the greatest benefits for you and for our planet.
Still Owned By its Founder
ProCaps Laboratories was founded by Andrew Lessman in 1979, back in what some might consider "the early days" of vitamin supplements.

Today, it remains one of the few supplement companies that actually manufactures the vitamins it distributes -- and the only one in its class for uncompromising quality.

ProCaps Laboratories is still owned by the man who founded it and, through the years, his commitment to quality, service and ethical standards has never wavered. The company is not beholden to shareholders or investment bankers, and there is no Board of Directors to hinder Andrew's steadfast, single-minded dedication to your health and to the production of the most comprehensive nutritional supplements available.


The Early Days
Long before ProCaps Laboratories existed, Andrew Lessman had a vision -- to help educate the medical profession so, instead of merely treating disease, they would work to enhance health. In 1979, just as consumers were beginning to appreciate the crucial role of vitamins in the quality of life, Andrew -- an avid athlete, biochemist and law student -- was asked to give a series of seminars for doctors and other health professionals. These seminars focused on the exciting biochemical research being published on the benefits of supplements. Although Andrew had not begun making his own supplements, he quickly realized (as did those attending his seminars) that most of the products available were of low quality and made without regard to the latest scientific research. Therefore, Andrew used his background in biochemistry to create vitamins for his own needs as well as those of fellow athletes, friends and the health professionals he had met during the seminars.

Just as they are today, the vitamins Andrew created in 1979 were perfectly balanced with exceptionally active components -- and they were the only 100% pure, additive-free vitamins in the world. Andrew also achieved another goal -- to make vitamins so gentle to the digestive system they would not cause stomach upset.

Over the next 10 years, interest in Andrew's supplements became so widespread that he closed his successful law practice. Committing himself exclusively to the production of his vitamins, he named his new company The Winning Combination. From 1979 until the early 1990s, The Winning Combination's primary clients were - as the name suggests - elite athletes, celebrities, and professionals in the fields of fitness and medicine.


The Word Spreads -- Directly
By the mid-1980s, Andrew Lessman and The Winning Combination (which later became known as YourVitamins, and ultimately ProCaps Laboratories) were confronted with a formidable challenge: how to bring the product line to an increasingly widening and receptive market without diminishing the line's unparalleled quality. Andrew knew quality could not be maintained if the products were permitted to languish on store shelves or sit in a huge mass-market warehouse. Andrew had to find a way to spread the word about his products while retaining direct control over how they were handled and stored. It was the only way he could truly assure the quality and potency of his products.

Andrew found that multilevel marketing was not an option. Individual distributors had neither the expertise nor the training to adequately represent any product in which hard science plays such an integral role, nor did they have the facilities to properly store the product. That left him with one alternative - Direct Response Marketing.

Quite simply, Direct Response Marketing eliminates the middle-man and allows the consumer to go straight to the manufacturer in order to make a purchase, without the intermediate step of going to a store. It is simple, straightforward, 100% efficient and absolutely reliable. Andrew could, and still does, maintain complete control over the quality, safety, potency and storage of his products, while the customer controls every other aspect of the transaction.

Andrew's earliest direct response advertisements were placed in leading magazines and newspapers, as well as on radio and television. These ads strictly adhered to Andrew's premise that, "if you make the best products in the world, the strongest bridge between you and a new customer is education." The advertisements were information-rich with no hype or exaggerated claims -- just straight science and straightforward facts. These ads were very well received, and the company began to grow rapidly as more and more people grew dissatisfied with ordinary retail supplements and sought a higher-quality alternative.


Direct to Television
During the late 1980s, a new phenomenon in direct marketing began to attract America's attention: Television Home Shopping. TV retailing was in its infancy when QVC approached Andrew Lessman to suggest that he be the first to offer nutritional supplements on television. Andrew was initially reluctant -- wary of the aggressive tendency of TV selling and the natural bias of television toward visual products like jewelry and electronics. But ultimately, Andrew elected to go on-air himself, without relying on the borrowed interest of a celebrity, and without adapting his presentation for TV's visual or "entertainment" requirements. Avoiding audacious showmanship and exhortation, his appearances remained heavily informative and education-based. The audience response far exceeded anyone's best expectations, confirming once again that people will listen to an honest, respectful presentation without sensationalism.

After enjoying almost six years of unparalleled success at QVC, Andrew moved to the Home Shopping Network (HSN) in November of 1996. The move to HSN coincided with the company's relocation from Santa Monica, California to a new state-of-the-art 125,000-square-foot facility in the high desert of Henderson, Nevada. The much larger facility and the desert's extremely low humidity allowed Andrew to make perfectly pure products he had not previously thought possible -- dramatically diversifying his product line to meet a much wider range of customer needs. The move also afforded Andrew the opportunity to change his company's name to something more representative of what the company had become. So, in 1997, Andrew made a gradual change from The Winning Combination to a name that would better describe where customers could go to get the world's best vitamins -- YourVitamins.

Today, Andrew is still passionate about nurturing and growing the company he founded in 1979 as well as providing the highest-quality, most effective supplements available. Based on cutting-edge nutritional science, new products continue to be formulated to enhance health, and new technology is being employed to deliver these nutrients more efficiently. To more accurately reflect Andrew's dedication to improving health through the finest scientifically-supported supplements, Your Vitamins has now become ProCaps Laboratories.


Changing Times, Enduring Values
ProCaps Laboratories is constantly changing for the better, but the most important things never change. That is why ProCaps Laboratories continues to bring customers 100% pure, additive-free supplements based on solid and reliable science. No hype. No spin. No deceptive marketing tactics. And we are always available to answer your questions. Unlike most direct marketers who outsource their call centers to other states -- or even other countries -- ProCaps Laboratories has an in-house call center staffed with well-trained, deeply informed professionals to answer all customer questions and process all customer requests.

Since Andrew Lessman created his first supplement, ProCaps Laboratories has led the industry in research, development and innovation. Over the years, Andrew's formulas have evolved based on new advancements in science and on the changing needs of our customers. Yet Andrew's guiding principles continue to be the cornerstone of ProCaps Laboratories. These core beliefs are as true today as they were when Andrew first began: to enhance health naturally by sustaining and ethically creating the safest, purest and most effective nutritional supplements on earth.



THE PROCAPS DIFFERENCE

Why We Are Different
Over the years, ProCaps Laboratories has insisted on both product quality and customer education. That has earned us the reputation as "the informed choice in nutritional supplements." Whatever your goals might be in using our supplements, we take great pride in the differences our products provide.
ProCaps Vitamins are 100% pure and additive-free
It's shocking, but most of the world's vitamins -- and particularly the world's most popular vitamins -- contain chemical additives, including artificial colors, fillers, preservatives and processing aids. No matter how pure and natural you might think these products are, they likely contain these additional ingredients to make the manufacturing process easier or to make the vitamin more attractive to the customer. These additions however do nothing to benefit you. In fact, most health-oriented people consider additives a potential health hazard. ProCaps Laboratories is the world's only major manufacturer producing a complete line of 100% additive-free vitamin formulas with no colors, binders, fillers, lubricants, stabilizers, flowing agents or preservatives. The only thing you will find in our vitamin capsules are the beneficial nutrients you seek.
ProCaps Vitamins contain the safest and most effective nutrients
Important vitamins like Beta Carotene, Vitamin C and Vitamin E are available in a variety of chemical forms, each offering dramatically varying benefits. Unfortunately, most manufacturers choose the least expensive, least effective forms of nutrients. We, on the other hand, use only the safest and most effective form of every vitamin, mineral and nutrient included in our supplements.


ProCaps Vitamins are not compressed tablets
How easily a nutritional supplement disintegrates and dissolves has a huge impact on how well the nutrients are absorbed and utilized. Yet the typical vitamin tablet is compressed with binders (which are simply glues that hold the tablets together), which make it difficult to digest and interfere with your body's ability to absorb the nutrients. The pressure and heat generated by the tablet-making process can also damage or destroy fragile nutrients in much the same way cooking can break down the nutritional value of food.

ProCaps Vitamins dissolve quickly and are readily absorbed because the nutrients in them are comprised of ultra-fine, micro-granulated powders. Our 100% additive-free capsules also eliminate the need for binders or fillers that can hinder absorption. And because our nutrients aren't subjected to the pressure or heat typically used to make compressed tablets, ProCaps Vitamins retain their full potency. Since ProCaps Vitamins are never compressed, they are easily digested and more readily absorbed, offering greater benefits to your body.


ProCaps Vitamins will not upset your stomach
No matter how healthy a vitamin is, if it is unpleasant to use, you'll stop taking it. Stomach upset, gas, burping, repeating and diarrhea are common complaints when taking ordinary rock-hard, acidic vitamins that sit in your stomach and that are not easily digested or absorbed -- and are the most frequent reasons people stop using them. We eliminate these complaints by producing completely non-acidic, ultra-fine powders in small, flexible, easy-to-swallow capsules, which are guaranteed to be gentle to even the most sensitive stomach.



FEATURED ARTICLES

Raspberry Ketone is not a Fat-Burning Miracle
First of all, there are no fat-burning miracles and any such statement is absolutely false. Recently, Dr. Mehmet Oz, a popular TV doctor, promoted raspberry ketone on his show as: "The #1 miracle in a bottle to burn your fat."
READ MORE
Andrew's Multivitamins: Complete, Life Rx and Essential-1
First of all, if you are taking COMPLETE, you don't need to take ESSENTIAL-1 and if you take ESSENTIAL-1, you don't need to take COMPLETE. In other words, because they are both stand alone formulas...
READ MORE
Essential Omega-3 and Maximum Essential Omega-3 Differences
A couple of months ago, I did a Today's Special offering a higher potency version of Essential Omega-3. It contains the same fish oils as my Essential Omega-3, but in order to reach the desired level of 1,000 mgs...
READ MORE
Calcium's Magic Number = 500
It is very well-established that when you take a calcium supplement, you will experience best results if you consume no more than 500 mgs at a time. It is also best to be consumed with food, since food stimulates changes...
READ MORE
5-HTP in Night Time
A surprisingly negative review was posted about the ingredient 5-HTP in my Night Time product and I just thought I would respond, since it communicates inaccurate and inappropriate information...
READ MORE